From the Mekong Delta to the Temples of Angkor (formula port/port cruise)
HO CHI MINH CITY - MY THO - CAI BE - VINH LONG - SA DEC - CHAU DOC - PHNOM PENH - KOH CHEN - KAMPONG TRALACH - KAMPONG CHHNANG - TONLE SAP - SIEM REAP - ANGKOR
From the heights of the Himalayas to the southern coasts of the South China Sea, winding over 2,700 miles, the Mekong is much more than just irrigation for Indochina—everywhere it flows, it fascinates men and shapes their lives. Come take an expedition on this grand and plentiful "water snake," from Ho Chi Minh City, still largely influenced by the French colonial days, to Phnom Penh, Tonle Sap Lake and the ruins of Angkor, following the footsteps of Henri Mouhot. Our meditative trip takes you along the Mekong River on board a ship combining charm and colonial-style comfort.
Trip code : 1H3_PP
Duration : 11 days
Destination : HO CHI MINH CITY - CHAO GAO - SA DEC - CHAU DOC - PHNOM PENH - KOH CHEN - KAMPONG CHHNANG - Siem Reap
Travel Dates :2022/2023
THE CROISIEUROPE DIFFERENCE
All meals included
Refined local cuisine
Headsets are included for excursions
Official welcome from the captain and crew
Tour leader or cruise director on board
Onboard activities and/or lectures
Travel assistance and repatriation insurance
All port fees included
HIGHLIGHTS
EXCURSIONS INCLUDED:

Discover 3 historical cities: Ho Chi Minh City, Phnom Penh and Siem Reap
Crossing through the splendid Cho Gao canal
Visit 6 major temples in Angkor
Meet the locals and learn about their daily lives in Koh Chen, My Tho...
***Important Note***
For operational reasons and passenger safety, Tweet World Travel and its suppliers reserve the right to change, vary, modify or cancel any itinerary or arrangement in relation to the tour/cruise as considered necessary.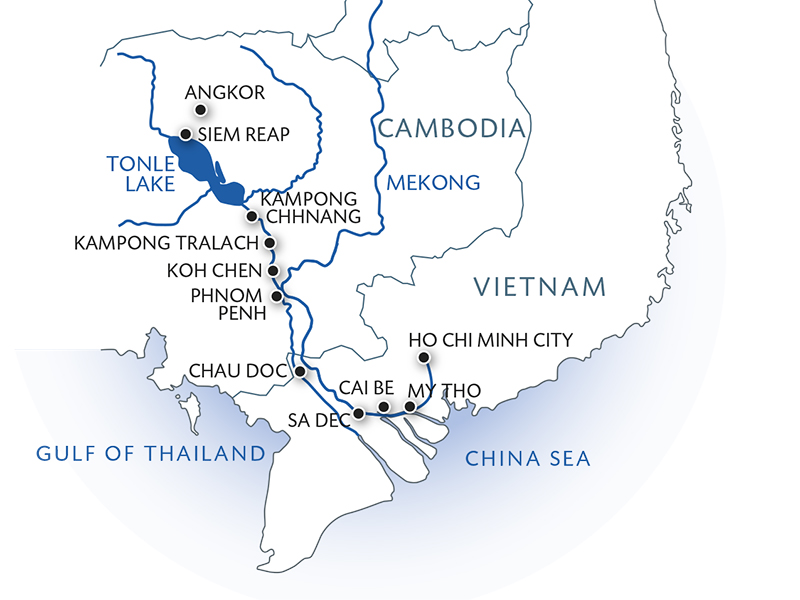 FAQ & Travel Blog
Tweet World Travel welcomes its newly chartered vessel RV Indochine II from CroisiEurope for its Vietnam and Cambodia Mekong river cruises for the season of 2021.
RV Indochine II - Mekong River Cruise Itinerary
RV Indochine II will travel between Ho Chi Minh City, Vietnam and Siem Reap, Cambodia or vice versa with an itinerary that presents guests the prettiest part of the Mekong River.
RV Indochine II docks in the heart of Ho Chi Minh city. From this bustling city you'll cross the narrow Chao Gao Canal, engage in local life in My Tho and Koh Chen and pass through the city of Phnom Penh with its Royal Palace and bustling markets before finally disembarking on the doorstep of the Angkor temple complex: home of the world-famous Angkor Wat.
RV Indochine II - Design and Interior
Have a memorable Mekong river cruise trip aboard a ship combining charm and colonial-style comfort. The RV Indochine II's design is inspired by the style of the rich commercial fleets that cruise on the Mekong, which fits right in with the rest of the CroisiEurope fleet. The ship is a wide, low vessel that sports prominent sheers on the outside decks covered in exotic Vietnamese wood and encircled with gangways. The interior of the ship is a fusion between the French Colonial era with more contemporary trends, creating an original design called "neo-colonial."
In addition, the RV Indochine II is equipped with state-of-the-art climate control, ventilation, and water treatment technology that ensures minimal disruption to the Mekong's environment.
With obvious French influence and flair, each of its 31 cabins is spacious and comfortable, with ample of storage space and amenities required for a convenient on board experience. An outside bar and lounge alongside a swimming pool is located on the sun deck, and massage services are available.
RV Indochine II - Specification
Destination: Vietnam & Cambodia

River: Mekong River

Cabin: 31

Rating: 5-star

Number of passengers: 62
RV Indochine II - Cabin and Deck Plan
Upper Deck: 23 Cabins
Main Deck: 8 Cabins

Cabins are spacious and comfortable, with plenty of light (22,5 m²) including a private balcony (4 m²). Cabins 201, 202, 221 and 224 come with 6 m² mini-terraces.
Conveniences: All cabins are exterior-facing and equipped with two low beds that can be joigned together, large storage space and TV, private bathroom with shower, air-conditioning, safe, hairdryer, dresser. Toiletries are available for your use. Onboard Wi-Fi.
Deck Plan
Sundeck Main Deck Upper Deck
Upper Deck:
Have a look at our amazing onboard activities in below video
Your cruise in the cabin category of your choice - double-occupancy accommodations in a first-class hotel - all meals - drinks at all meals (1 soft drink or 1 beer* or 1 mineral water + 1 tea or coffee per person for each meal) - unlimited tea, coffee and mineral water during the cruise on board the RV Indochine and RV Indochine II - visits and excursions mentioned in the program - the services of an English-speaking local tour guides and onboard CroisiEurope tour director on board the RV Indochine and RV Indochine II - the Croisieurope agent in Siem Reap - travel assistance and repatriation insurance - tips (excluding tips for crew members on board the ship).
Tips: To make your vacation worry-free, the equivalent of €35 per passenger will be given to service providers for your destination country as tips. We feel this amount is appropriate in consideration of local customs and practice.