Magnificent Mudéjar Art From Morocco's Imperial Cities to the Andalusian Flatlands (port-to-port package)
Although the Strait of Gibraltar separates Spain and Morocco, they share a rich, common history. Our trip will focus on Mudéjar art, a mix of styles that appeared between the Moorish invasions and the Spanish Reconquista. Join us on a fascinating cruise under the golden sunshine in Andalusia to the lively atmosphere of the traditional Moroccan bazaars known as souks.
Trip code : AFM_PP
Duration : 0 days
Destination :
Travel Dates :2023
THE CROISIEUROPE DIFFERENCE
All meals included - DRINKS INCLUDED with meals and at the bar
Refined French cuisine - Gala dinner and evening - Welcome cocktail
Free Wi-Fi onboard
Headsets are included for excursions
Official welcome from the captain and crew
Onboard activities
Travel assistance and repatriation insurance
All port fees included
CRUISE HIGHLIGHTS
UNIQUE ITINERARY : CRUISE THROUGH THE LEGENDARY STRAIT OF GIBRALTAR and along the Moroccan coastlines
Explore(1)

MOROCCO

Enchanting and colorful Marrakesh
Southern Morocco: Authentic Taroudant and the Tiout palm grove
The magical atmosphere of Casablanca
Rabat, a coastal Imperial City
Chefchaouen, a gorgeous blue-wash town nestled high up in the Rif Mountains

SPAIN

Granada and the Alhambra, the palace from the Nasrid dynasty and a marvelous example of Andalusian architecture

Visit exceptional sites

Opulent Hassan II Mosque, dominating the seaside landscape
Delightful Jardin Majorelle, one of the most phenomenal botanical gardens in Morocco

DELICIOUS, COLORFUL CUISINE

Tastings of wine and cheese from the Canary Islands
Tasting of Moroccan pastries and mint tea on board
Typical Moroccan lunch at the heart of the Medina of Marrakesh
Spanish cocktail hour on board with tapas and sangria

Participation of Alain Loisin, lecturer(2)

During the years I have spent traveling, I have given presentations on several CroisiEurope cruises—from the banks of the Red Sea to the Canary Islands, the Greek islands to the Bosporus, Russia at the time of the czars to the splendors of the Adriatic.
Conference themes:
The Strategic Challenges of the Strait of Gibraltar
Casablanca, Morocco's Young Economic capital
Following the Footsteps of the Conquistadors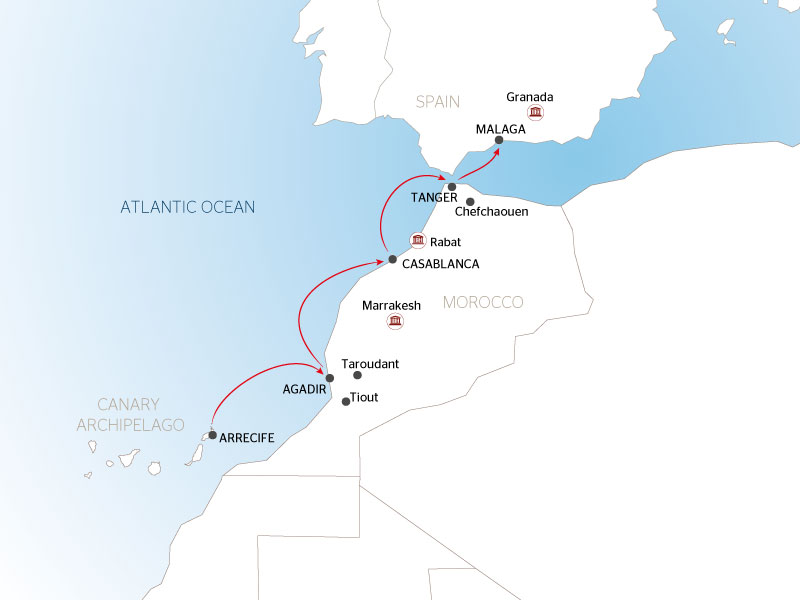 FAQ & Travel Blog
your cruise in the cabin category of your choice - all meals - drinks with your meals and at the bar (not including our special wine and drinks list) - emergency/repatriation insurance - all port fees.
CLASSIC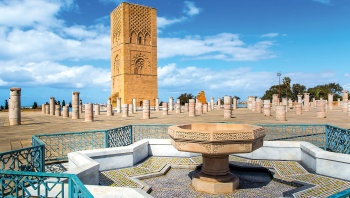 CLASSIC EXCURSIONS PACKAGE - 2022
Included in tour package Full-day trip to Taroudant and Tiout Casablanca Rabat Full-day trip to Chefchaouen Full-day trip to Granada
PRICE PER PERSON
Pre-paid : 706 AUD
On-board : 826 AUD
CLASSIC
CLASSIC EXCURSIONS PACKAGE - 2022
Included in tour package Full-day trip to Marrakesh Casablanca Rabat Full-day trip to Chefchaouen Full-day trip to Granada
PRICE PER PERSON
Pre-paid : 829 AUD
On-board : 970 AUD